403(b) Agent Offers 10% Bonus, Free Lunch and Guaranteed Returns

Originally posted on my Meridian Wealth Blog on November 30th, 2011

http://meridianwealth.wordpress.comhttp://meridianwealth.wordpress.com/2011/11/30/403b-agent-offers-10-bonus-free-lunch-and-guaranteed-returns/For those of you who think ASPPA's position that advisors shouldn't be fiduciaries I present the #1 Midland National sales rep in Arizona for 403(b)'s. He promises the following on his Facebook page "Is your stock account dropping like a rock? Our accounts have NEVER lost 1 penny for anyone. Come into Cameron Financial Group today and put a turnakit around the bleeding. We can GUARANTEE you 7% on ALL your money for the next 10 years!!!"So there you have it – its that easy to earn 7%. Here is a recent flyer from the same group left at a district office for teachers and school employees. This is what ASPPA now endorses and what Brian Graff wants to fight to protect. Is this really what ASPPA wants to support? Should our school employees really be subjected to this non-fiduciary behavior?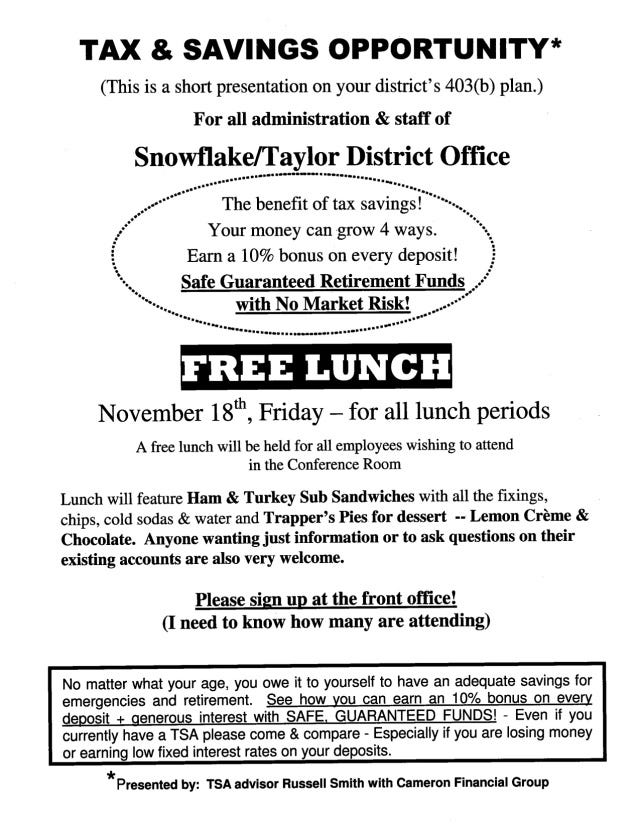 Think this guy is a fiduciary?