Blacklisted: How The NTSA Stifles Dissent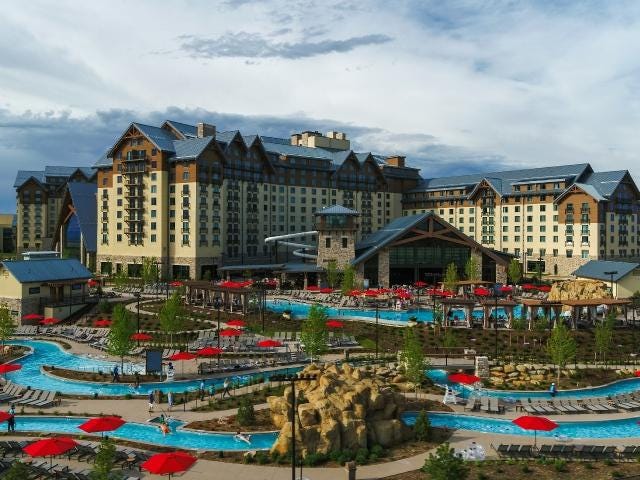 Gaylord Rockies - NTSA Summit Conference Location
About a month ago I signed up to go to the NTSA (National Tax-Deferred Savings Association) Summit in Denver, Colorado, it starts this weekend. Yesterday, I received the following e-mail from Brent Neese, the Executive Director of the NTSA: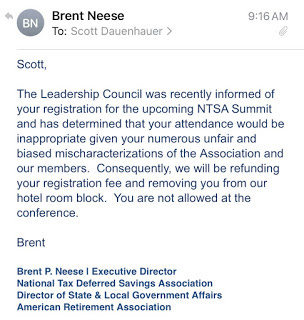 As you can imagine, I was shocked.
Yes, I've been critical of the NTSA for years (for good reason, see links below), but I've attended two NTSA conferences in the past with no issues and have successfully navigated dozens of conferences over the 20+ years I've been in the business. In fact, many of the conferences I attend, I am one of the speakers (most recently at one put on my the Securities and Exchange Commission - RISE 2.0). My intentions at this conference were no different than at others: listen, learn, network and report.
So why am I suddenly a threat to the Leadership at the NTSA? I'd like this explained, so far I've received no explanation.
At no time have I made "unfair or biased mischaracterizations of the Association (or) their members". I've made critiques based on solid evidence, usually in relation to research the organization puts out that is not based in reality.
The real issue here is that the NTSA doesn't want my voice heard. Anyone who is outspoken has to be marginalized and cast out. Worse, the organization won't even engage in a dialogue. Both the current Executive Director and the incoming President have been asked to come onto the Teach and Retire Rich podcast to point out anything that I've said that they feel is wrong. The requests are met with silence.
An organization that is under the American Retirement Association should encourage outside thinkers, not stifle their voice.
Contrary to this Executive Directors e-mail, many members of the NTSA were perfectly fine with me attending, in fact they were shocked when they learned that I had been blacklisted.
Keeping me out of the conference leads me to believe there are things that might be said out loud that they'd rather the public not hear. This should disturb every member of the American Retirement Association.
What is the NTSA attempting to hide?
I've spent the past 20+ years fighting for better retirement plans for teachers and for a fiduciary duty in 403(b) plans. I won't stop because a lobbying group decides my voice shouldn't be heard.
The more likely explanation is that this is retaliation. I've been very critical of their largest sponsor - Security Benefit, the company that runs the NEA 403(b) products (they are NOT good products in my opinion). It's retaliation for appearing and speaking at the SEC RISE 2.0 conference. It's retaliation for being quoted in New York Times and Wall Street Journal articles that are critical of government 403(b) plans. This is my opinion, based on how I've been treated, perhaps I'm wrong.
The offer still stands though. If anyone at the NTSA has the guts to come on The Teach and Retire Rich podcast, we are ready and waiting - in fact, we suddenly have some time available starting Saturday.
Scott Dauenhauer, CFP, MPAS, AIF
Below are all the posts over the years I've made about the NTSA. You'll notice I don't use ad hominem - each post attacks THE ISSUE, not the people.
If there are any Statistics professors out there who agree with the NTSA and disagree with me in regards to The Swimming Pool Dilemma post, I'd be interested in why.



Orwellian NTSA Testimony from 2013