Father of 401(k): "Blow up the system and restart"
Originally posted on my Meridian Wealth Blog on December 19th, 2011

http://meridianwealth.wordpress.com


http://meridianwealth.wordpress.com/2011/12/19/father-of-401k-blow-up-the-system-and-restart/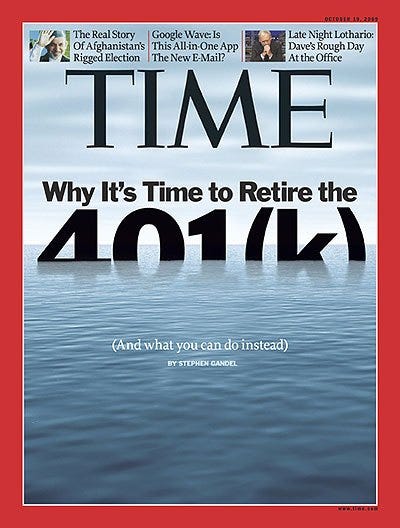 Ted Benna, the "father" of the 401(k) believes the plans have become to complex and are not working the way they should. Imagine what he would think of the 403(b) world. Benna stated (in an article on MSN Money –here)
"Now this monster is out of control. We went to three options, then to six, then to seven, then to 15 — it is far beyond what most participants were able to deal with…and I am not convinced we have added value by getting more complicated."
In other words – "Choice" is one of the things getting in the way of successful retirement outcomes. If 15 investment options in a 401(k) is bad – the 403(b) world is on full-tilt overload. Yet this doesn't stop insurance companies and their representative organizations (like ASPPA) from promoting the toxic brew of "Choice".
Another mistake is thinking that we can turn participants into professional investors through the magic of education (sitting in a seminar for an hour each year!). Benna says:
"We're throwing tons of money away trying to teach participants how to become skilled investors — we said, we are going to make people smart and savvy enough to make the right investment decisions, but it just hasn't worked."
The MSN Money article goes onto say:
The consequence of all the complexity is twofold, he says. First, employees felt they could be more active investors. "There is too strong a potential for employees to do the worst thing ever, which is moving in the wrong direction, panicking when things are bad and cashing out after they have been battered." Secondly, the current plans induce "a kind of gridlock — employees get so overwhelmed they do not participate — they do nothing," he says.
Hmm, participants can get overwhelmed by complexity and choice? Well, according to Benna and all the behavioral economic research – that is exactly what happens. Incorporating behavioral finance and automatic options such as auto-enroll, auto-increase, auto-default, etc…is the way to help participants retire with dignity.
Its time we stop padding financial service companies bottom line and started focusing on the solutions to getting participants to a dignified retirement. Those companies that are doing this will find their pie get much larger and will see that by doing good – they can do well.
Scott Dauenhauer CFP, MSFP, AIF