INSURANCE SECRETS: WHAT'S DRIVING THOSE ANNUITY RECOMMENDATIONS?
I posted this on my Meridian blog back in December. The company has since tried to shut that blog down, re-posting here.


Ever wonder why that "financial planner" is recommending the product they are recommending? It could be the compensation or the extra bonuses that are offered to incentive them to sell a certain company's product.Given these incentive plans, is the product being sold really in your best interest? I'll let you decide. Here is a recent advert that showed up in my e-mail: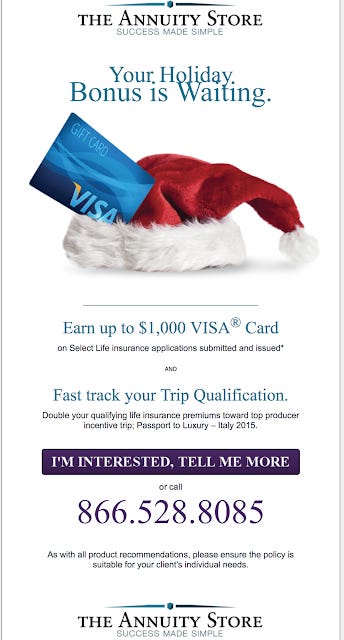 Wondering which insurance company must be sold to secure that $1,000 Visa card (and trip qualification to Italy)? Here is the small print…enlarged:
*Available only on all Allianz Life Pro+® and Allianz Life Pro+ SurvivorSM Fixed Index Universal Life Insurance Policy Applications. Offer ends 12/31/14. Exclusions may apply; contact your Annuity Store Marketer at 800-825-6094 for complete details.
Policy #P54350 & #P61843 are issued by Allianz Life Insurance Company of North America.
Guarantees are backed by the financial strength and claims-paying ability of Allianz Life Insurance Company of North America.
Product availability and features may vary by state. New York production is not included.
Registered representative participation is subject to Broker/Dealer approval.
The Annuity Store reserves the right to alter or discontinue this promotion at any time. Agent must be in good standing. All federal, state and other tax liabilities arising from the award are the sole responsibility of the agent. VISA is not a participant in, or sponsor of, this promotion.
TAS226-38610 For financial professional use only – not for use with the public.
Notice that the marketing company doesn't want you to know about this – marking the e-mail "For Financial professional use only – not for use with the public." It seems to me the public SHOULD know about the incentives driving the product recommendations being made.
This practice should not be allowed.
Scott Dauenhauer, CFP, MPAS, AIF