NEA Making Big Bucks From Members By Selling Expensive Annuities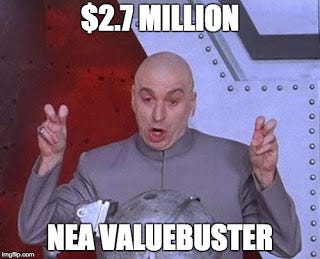 NEA Member Benefits Reported Annual Fees of $2.7 Million
The NEA's wholly owned subsidiary NEA Member Benefits receives a base fee of $2.7 million per year (escalating each year depending on specific unmentioned milestones) to promote the expensive NEA Valuebuilder 403(b) product(s).


In addition, they pay the following fees to their state education associations:



"The sole fees paid to NEA MBC for its advisory services are the fees paid to NEA MBC by SB described in Item 2. In exchange for their assistance in the marketing of NEA- sponsored financial services programs, NEA MBC pays certain NEA-chartered state education associations up to $15 per new participant in such programs and up to $0.80 per year per ongoing participant in such programs, including in each case the Program. NEA MBC pays a minimum of up to $10,000 per year to each such state association,depending on the programs marketed to the association's members. The Program is the only product made available by NEA MBC that involves investments in securities." Emphasis added - Source is the NEA MBC Form ADV Part II
You can look this information up yourself at http://www.adviserinfo.sec.gov. Of course if you don't have the NEA's CRD number you'll have a hard time finding the info. I couldn't find their CRD, but I eventually found a representative who works for them which led me to their numbers, which are CRD# 138196 / SEC# 801-64989.

I actually called the 1-800-637-4636 number listed in the NEA Valuebuilder prospectus and instead of being sent Part II of Form ADV (like the prospectus says they will deliver upon request) I was harassed and told that I'm not entitled to any information and the NEA is not an RIA. They had no idea what a Form ADV was (this from an employee who claimed to have worked their for 25 years). So don't get any ideas that you'll get this type of information by calling them.

Some other tidbits from their ADV:

NEAMB claims that 23 of their 95 employees "perform investment advisory functions".

Their are approximately 50 firms or persons that solicit advisory clients on behalf of the NEAMB.

They provided investment advisory services to 71,100 clients in their latest filing (this would indicate that they have opened about 71,100 accounts with Security Benefit, their product provider. If the average account balance was $30,000 this would indicate assets of about $2 billion.

The advisory services claimed perform are: Publications of periodicals or newsletters, Educational seminars and workshops and "UNDER THE AGREEMENT, SB PAYS REGISTRANT AN ANNUAL BASE FEE STARTING AT $2,700,000. THE ANNUAL BASE FEE INCREASES BETWEEN 5% AND 10% PER YEAR, PROVIDED REGISTRANT ACHIEVES SOME OR ALL OF MUTUALLY AGREED UPON MARKET-OPENING AND PROGRAM PROMOTION GOALS THAT ARE NOT TIED DIRECTLY OR INDIRECTLY TO SALES GOALS. THE ANNUAL BASE FEE MAY BE REDUCED WHEN CERTAIN PRODUCTS ARE NO LONGER AVAILABLE UNDER THE PROGRAM"

They answered yes to the following question:


recommend purchase or sale of securities to advisory clients for which you or any related person has any other sales interest (other than the receipt of sales commissions as a broker or registered representative of a broker-dealer)?

So what does NEA MBC do for that $2.7 million+, it's described as follows:
"REGISTRANT'S ADVISORY SERVICES ARE IMPERSONAL AND INCLUDE MAKING AVAILABLE TO EMPLOYEES OF ELIGIBLE EMPLOYERS MONTHLY REPORTS ON REGISTRANT'S WEBSITE ABOUT THE PERFORMANCE OF INVESTMENT OPTIONS AVAILABLE THROUGH THE PROGRAM, INFORMING EMPLOYEES OF ELIGIBLE EMPLOYERS ABOUT THE EXISTENCE OF THE PROGRAM THROUGH INFORMATION ON REGISTRANT'S WEBSITE, BLOGS, SOCIAL MEDIA, AND THE PUBLICATION OF ADS IN VARIOUS NEA AND STATE ASSOCIATION PUBLICATIONS, MAKING PRESENTATIONS TO EMPLOYEES OF ELIGIBLE EMPLOYERS CONCERNING THE PROGRAM AND, THROUGH REGISTRANT'S FIELD REPRESENTATIVES, PROVIDING BROCHURES AND OTHER INFORMATION ABOUT THE PROGRAM TO EMPLOYEES OF ELIGIBLE EMPLOYERS, MAINTAINING A DEDICATED RETIREMENT PLANNING CENTER LOCATED ON REGISTRANT'S WEBSITE WHICH PROVIDES ARTICLES, RETIREMENT AND PENSION CALCULATORS, AND A SPECIFIED RETIREMENT REPORT FROM KIPLINGER'S PERSONAL FINANCE MAGAZINE."
That's a lot of money for what doesn't seem like a lot of work. But they do monitor investments as well...kind of, this is their stated process:



NEA MBC has developed criteria to evaluate and monitor the performance of investment options recommended by, or proposed to be recommended by, NEA MBC and offered through the Program. The criteria are specifically designed to accomplish the following:



To support NEA MBC's recommendations to SB for new investment options for the Program.
To review, on an ongoing basis, the performance of existing investment options, as well as investment options of other nationally available variable annuity and mutual fund products that are targeted to the education marketplace.
To provide a basis for identifying underperforming Program investment options.

Methods of Analysis. NEA MBC evaluates the desirability of investment options on the basis of performance within defined investment categories, the number of options in the relevant category and the security and reputation of the company offering the investment option. The Program includes proprietary variable annuity products issued by an insurance company, mutual funds that are adapted to be used as variable annuity separate account investment options, and mutual funds that are used in custodial accounts. NEA MBC also advises on the financial strength of SB and Nationwide, a prior provider, to evaluate their general account options for the variable annuity product in the Program, by monitoring and reporting their ratings and financial condition.
NEA MBC evaluates whether an investment option in the program generally ranks numerically in the upper third of its investment category over a three-year period based on the investment option's performance. NEA MBC will occasionally recommend inclusion of an investment option with less than a three year history if the mutual fund on which the investment option is based has performed adequately. The goal of each investment option is to maintain an ongoing three-year average ranking in the upper half of its investment category. If an investment option's performance declines to the lower half of the options in its investment category for a three-year period consistently for three months, it will be placed on "Monitor" status. If the investment option's performance returns to the top half of its investment category for three consecutive months, it will be removed from Monitor status. New funds recommended by NEA MBC should, in addition to satisfying the above performance criteria, complement or supplement existing investment options by offering new investment objectives or strengthening a particular existing investment objective category. Investment options are also reviewed and consideration is given to the company's position as an industry leader with corresponding financial strength. NEA MBC recommends investment options based on independent, publicly available ranking services, including but not limited to Morningstar Principia Analytical Service.
Not exactly rocket science here with the recommendations and monitoring - probably explains why so many Guggenheim funds (which is owned by the same company that owns Security Benefit) are included in the lineup.

So next time you are wondering why your local association is pushing the NEA Valuebuilder 403(b) product on you, it's because they may be receiving advertising fees and referral fees for you signing up.

This post is a combination of factual information obtained legally from public sources as well as my opinions.

Scott Dauenhauer, CFP, MPAS, AIF