Non-Profit Universites Sued Over 403(b) Programs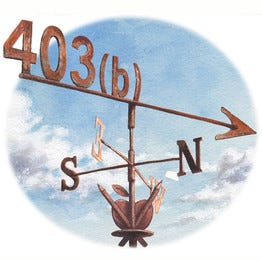 Image: Ray Bartkus
I was a bit surprised to see this lawsuit as I'd pretty much kill to have the providers listed in the programs being sued (Fidelity and TIAA - who are not defendants).

I'm not getting a warm and fuzzy with this lawsuit, though it may prompt system wide change, I fear that the schools will pay out a lot of money for operating programs that were, relatively speaking, pretty good.

If you think these programs are bad, you ain't seen nothing until you've dug into the world of public K-12 403(b) programs. As I dig into the lawsuits, I'll have more commentary.

Here is a short excerpt and link to the New York Times article by Tara Siegel Bernard:



"The complaints allege that the universities, as the plan sponsors, failed to monitor excessive fees paid to administer the plans and did not replace more expensive, poor-performing investments with cheaper ones. Had the plans eliminated their long lists of investment options and used their bargaining power to cut costs, the complaints argue, participants could have collectively saved tens of millions of dollars.
"It is important for retirees and employees of universities to have the same rights and ability to build their retirement assets as employees of for-profit companies," said Mr. Schlichter, a founding partner of Schlichter Bogard & Denton in St. Louis. "They shouldn't be penalized."
In a statement, New York University said that it took the welfare of its faculty and employees seriously, including a dignified retirement. "The retirement plans offered to them are chosen and administered carefully and prudently. We will litigate this case vigorously and expect to prevail," said John Beckman, a university spokesman."
Stay tuned.

Scott Dauenhauer CFP, MPAS, AIF