Discover more from The Teacher's Advocate
A blog devoted to improving 403(b) plans for public school employees.
Number of Higher Education 403(b) Plans Drop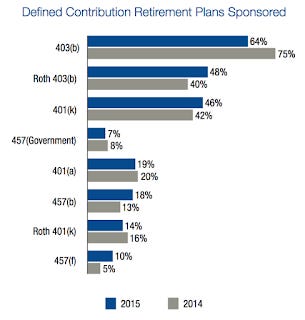 There appears to be a downward trend of the use of 403(b) plans in Higher Education institutions according to a new Transamerica study.


"Perhaps the main finding from the 2015 edition of the study is the incidence of 403(b) plans among institutions of Higher Education. For the first time, fewer than two out of three institutions (64%) sponsor a non-Roth 403(b) plan. To this day, 403(b) plans have been the dominant type of plan in the Higher Education sector (75% in 2014), but 401(k) plans have become more common and are now offered by nearly half (46%) of institutions to at least some segments of the workforce. Greater workforce mobility between corporate and Higher Education among researchers and staff, the rise of the for-profit Higher Education sector, and economic pressure to streamline retirement benefits all contribute to the trend. The rise of the 401(k) plan will likely continue into the future as Higher Education institutions compete for talent in the labor market."

This is an interesting development and one that needs to be taken into account when educating employees. I have clients who have access to a 401(k), 403(b) and a 457(b), it can get quite confusing.

The study is available below.

19586-PS B RetirementPlanTrends HigherEducation LOWREZVIEWONLY FINAL 122315 Tcm73-55252