Discover more from The Teacher's Advocate
A blog devoted to improving 403(b) plans for public school employees.
Quoted in Forbes: Teachers Facing New Financial Pains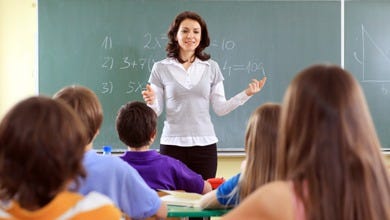 Quotes:


"They have no faith in the stock market and feel they've been misled that stocks produce a higher return [than bonds] or that they'll be rewarded for stock market risk if they just hold on long enough," he says.
Many school districts are also barred from giving financial advice or restricting vendors selling high-cost annuities from campuses, Dauenhauer said. That makes some teachers easy pickings.

"The insurance agents prey on the teachers fears," he said.

What's to be done? For starters, expect that your 403(b) will be as large a part of your retirement as your pension plan, and invest it accordingly. While some teachers may think that their non-pension retirement savings can be invested more aggressively because there is a backstop, Danhauer argues that teachers may find themselves on the hook for more of their health care costs down the line because of the shaky state of government finances.

"The 403(b) has been thought of as supplemental," he said. "My mission is to convince teachers that it is essential to a healthy retirement."


Scott Dauenhauer CFP, MSFP, AIF