Yet Another Hidden Annuity Compensation Conflict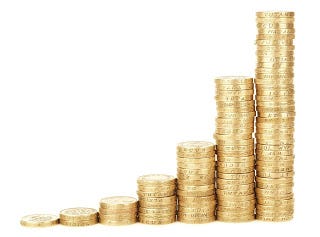 The conflicts in annuity compensation seem endless. This is why I generally tell people to avoid them. I've got another conflict to add to the growing list, deferred compensation.

Insurance companies want loyalty and they design their compensation systems to reward it. I recently came across F and G Annuity and Life's deferred compensation scheme and thought it was a good demonstration of hidden conflicts in the recommendation that might be coming from your annuity agent.

Agents that aren't captive (meaning they can sell any insurance companies products) sometimes end up as independent, but captive. Confused? Let me explain.

Imagine you have two products you can sell. One rewards you with bigger commissions, amazing trips and other perks, but only if you sell enough products from that company during a specific time frame. If the agent anticipates making $2 million a year in premium sales, the perks available to that agent by selecting only one company to distribute can be significant versus if that agent sold products from two (or more) insurance companies. It's possible that the agent could miss qualifying for big perks at both companies even though they sell more in premium than agents who did receive the perks (but kept all their business in one place).

Back to F and G Annuity and Life.

F and G Life has a deferred compensation program for agents who use distribute their products, it's called the Power Producer Program. This program rewards loyalty. It rewards the agents who concentrate their sales with F and G and it presents a significant conflict of interest when the agent is choosing which product to sell to a customer. Should they sell the product that doesn't qualify them for contributions into a deferred compensation program (for the agents retirement) or one that does?

This is a conflict that the NAIC should eliminate (among many, many others). There should not be an incentive to sell one product type over another.

Here is the outline of the Power Producer Program as explained in an F and G brochure:


Each year we set a Power Producer qualification level. Producers earn credits throughout the calendar year and can combine both their annuity and life sales. The 2019 qualification level to earn one credit is 1.75 million points. $1 of FIA premium is equal to 1 point and $1 of life premium, up to target, is equal to 15 points. The Power Producer credit is determined each year, but each credit is typically worth between $3,000-5,000.
The deposit amounts are cumulative and below is an example. By qualifying for just one credit a year, from 2013-2018, F&G would have contributed $80,000 on your behalf to a non-qualified deferred compensation plan.
The current qualification period is January 1 - December 31, 2019.
Insurance is an important part of your financial plan and insurance regulation in the United States has failed the consumer. While I don't expect you'll receive an honest answer, always ask how your agent will be compensated and if selling the product they want you to buy qualifies them for trips, commissions, other perks and deferred compensation.

Here is an image from the brochure and a link to it.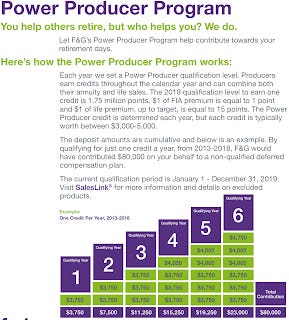 Are you 403(b) Wise? 403bwise.org is the place on the internet to learn, advocate and build community.